Artificial intelligence (AI) could help slash the number of falls elderly people are having in their own homes, leading to a reduction in the number of people being admitted to hospital.
Social care provider and health-tech company Cera said a pilot of its AI platform led to a 20% reduction in falls, and they were optimistic the figure could continue to decline.
Cera is a private company, but the majority of its business is providing social care on behalf of the NHS and local authorities.
Its staff carry out 50,000 appointments a day, according to founder Dr Ben Maruthappu, who launched the business in 2016 when he was a practising A&E medic.
Its Fall Prediction AI platform takes information about patients logged by carers on a smartphone app and assesses their risk of having a fall.
Based on the information, the visiting carer can then ensure the patient is hydrated, and that paths to toilets and the kitchen are clear.
The pilot is currently taking place in locations in the North West, Yorkshire and central Scotland.
Some 134 patients who had a total of 29 falls in the fortnight leading up to the trial were included.
After using Cera Fall Prediction AI, the total number of falls fell to 23, a reduction of 20.69%.
Dr Maruthappu said the reception from staff has been "really positive".
"No carer likes to turn up at someone's home and find them on the floor," he said. "It's a really difficult situation.
"Being able to prevent that is changing that person's life, and changing our carers' ability to really deliver great care so that they're on the front foot.
"Instead of turning up at someone's home and finding them on the floor, they already know days in advance that something's coming."
Dr Maruthappu said Cera is able to create the programs thanks to its "unprecedented amounts of data on how patients are doing in the home in the community".
He added: "That makes it very easy for us to build AI products, whereas other healthcare companies trying to use AI just don't have the dataset."
Cera has been building AI products since 2021, starting with a platform that predicts and prevents admissions to hospital.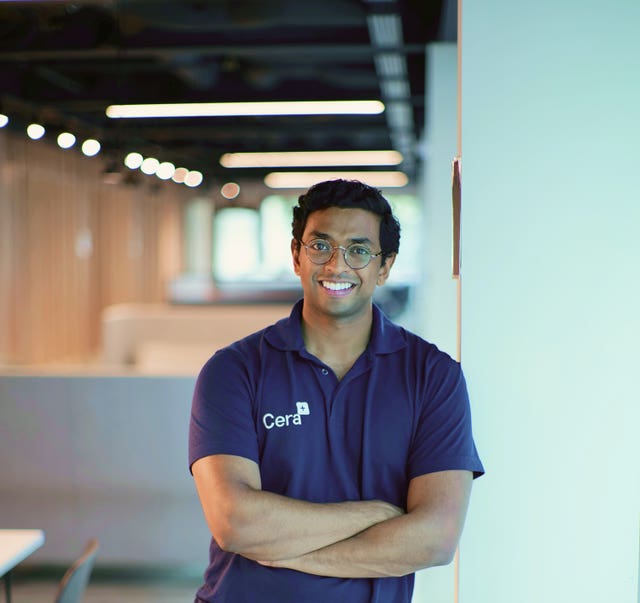 It launched Cera Voice in 2022, an automated AI phonecall that gets in contact with patients daily to ask them specific health questions and determine their risk of falling ill.
The chatbot adapts to the patient based on the responses it gets, and adapts the questions it asks to get relevant information.
"That helps us convert the conversation into data and into risk of someone ending up in hospital or becoming unwell, so that we can do something about it," Dr Maruthappu added.
Cera was "launched with a mission of empowering people to live better lives in their own homes", he said.
Further uses of AI at the company include using ChatGPT to automate paperwork, or help the company schedule its workers.
"Figuring out who matches who for visits is actually very complicated. We've got to match them based on language, time, location, the skills of the carer, of the health conditions of the individual.
"We're using AI to improve that. It means that our carers travel about 30% less. They're saving that time because they're taking a more efficient path from person to person, and that's time they get back to deliver care."
Elsewhere, Cera is using avatars, or digital representations, to train staff.
The platforms, which show images of real-life trainers, are able to welcome new starters in multiple languages and teach them various skills.
A pilot using the technology started last month in London and the South East.
Dr Maruthappu said he hopes using the avatars can address pressures in the social care sector in a sustainable way.